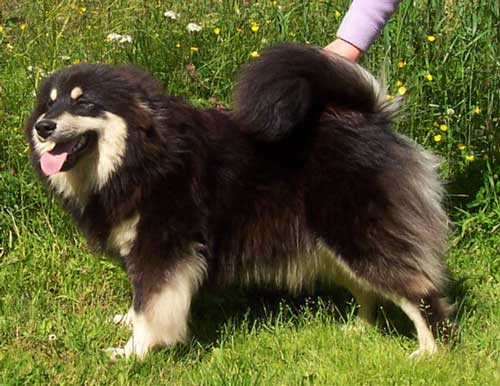 Opdrætter/breeder: Kennel Lapinlumon
Ejer/owner: Kennel Lapinlumon
Køn/sex: tæve/female
Født/born: 17.08.2003
Hofter/hips: A
Øjenlyst fri/eyetested free
PRCD-PRA optigen: normal/clear
Dansk Vi beholdt Dea fra Tahmas tredie kuld, senere kom hendes søster Killi hjem igen og de to ligner meget hinanden af sind. Dea er som Tahma og Killi en meget stærk og stabil hund. Rolig og lydig, aldrig bange for noget, og meget stærk i sit sprog over for de andre hunde. Hun er en stor pige med utroligt kraftige ben og de sødeste og mest charmerende knækører. Som alle Tahmas hvalpe er hun et højt skattet medlem af teamet her hos os og  hun har bidraget med meget værdifuldt til vores avl, både hvad angår temperament og udseende. Da Dea var færdig med at have hvalpe gik hun på pension hos Irene som har en yngre hanhund fra os. Der nyder hun nu livet som pensionist.
English We kept Dea from Tahma´s third litter, later her sister Killi came back home too and those two are very alike in their character. Dea is like Tahma and Killi a very strong and stabile dog. Calm and obedient, never scared of anything and very strong in her language with the other dogs. She is a big girl with very strong bones and the sweatest and most charming tipped ears we know. As all Tahma´s other off spring she is a highly valuated member of our team and  she has contributed with a lot of things  to our breeding, both when it comes to temperament as well as to looks. When Dea had had her litters she retired with Irene who owns a young male from us. Here she is now enjoying her life.