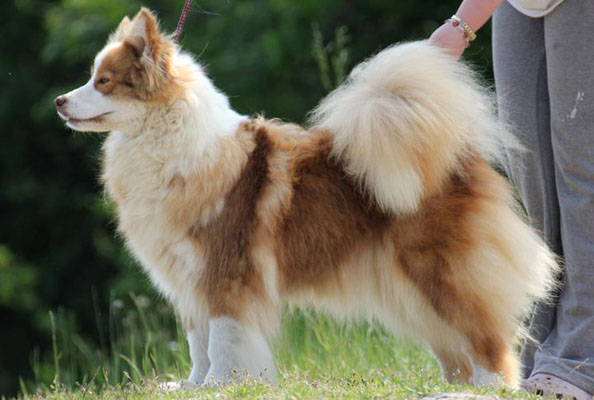 Opdrætter/Breeder: Kennel Lapinlumon
Ejer/Owner: Kennel Lapinlumon
Køn/sex: tæve/female
Født/Born: 21.10.2006
Død/Dead: 22.10.2013
Hofter/Hips: AB
Øjenlyst fri/Eyetested clear
Prcd-PRA: Bærer/carrier
Pompes: normal/clear
Dansk Nasti er fra Ämmis første kuld og det var en selvklarhed at vi skulle beholde en tæve derfra, da Ämmi er super vigtig for os i vores avlsprogram. Nasti er ganske unik i sine farver men også i sit sind. Hun er en utroligt stabil og sikker hund som aldrig laver nogen problemer. Hun har to certifikater på udstilling, men vi har aldrig fået taget os sammen til at tage hende med igen og prøve at få det sidste. Nasti får helt utroligt fine hvalpe, er en super mor og i det hele taget en fantastisk moderfigur her i kennelen. En klog hund som altid udstråler ro og sikkerhed.
Vi mistede Nasti alt alt for tidligt, da hun døde efter en glykol forgiftning fra sit 3. kuld, da de kun var 4 uger gamle. En frygtelig måde at miste en hund på og meget chokerende.
English Nasti is from Ämmi´s first litter and there was no doubt in our mind that we had to keep a bitch from that litter as Ämmi is so important to us in our breeding programe. Nasti is quite special in her colours, but also in her mind. She is a very stabile and calm dog who never causes any kind of trouble. She has 2 CACs from shows, but we never got ourselves together to bring her again and try and get the last for her title. Nasti produces extremely beautiful puppies is a great mum and all in all a fantastic mother figure here in the kennel. A very smart dog who has an atmosphere of calmnes and peace around her.
We lost Nasti much too soon when she died from a glykol poisining leaving her last litter who was only 4 weeks old at that time. A horrible way to loose a dog and very shocking.