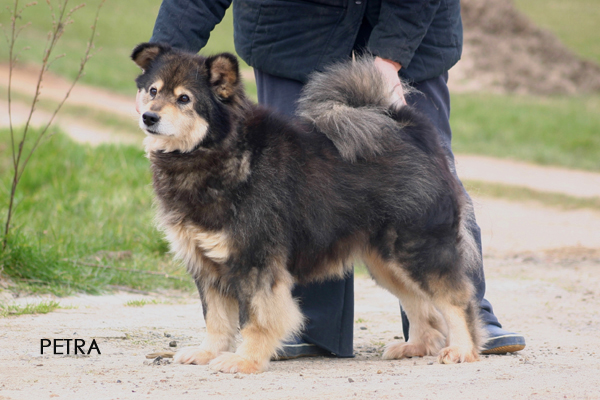 Opdrætter/breeder: Saara Sampakoski, Finland
Owner/ejer: Kennel Lapinlumon
Køn/sex: tæve/female
Født/born 04.07.1998 Død/Dead 07.04.2011
Hofter/hips: B
Øjenlyst fri/eyetested free
prcd-PRA: FRI/FREE
Dansk For mange år siden i starten af vores rejse med finsk lapphund så jeg en næsten 17 år gammel tæve, Peski Hippu. Hun var vildtfarvet, havde et fantastisk hoved, mere pels end jeg havde set på nogen anden og en type jeg på det tidspunkt endnu ikke havde set på andre lapphunde. Hun mindede mig om et vildt dyr. Jeg tænkte at sådan ville jeg have at finske lapphunde skulle se ud. Jeg fandt samme type i den finske tæve Shacal Nuhpir og bestilte derfor et barnebarn fra hende, Tahma. Tahma levede op til mine ønsker om denne type og det look jeg havde en lan om at få ind. Tahma var min favorithund, når det kom til temperament. Hun var utroligt rolig og nem at have med at gøre, men alligevel aldrig bange for noget som helst. Hun var aldrig oppe at slås med andre hunde, men formåede alligevel hele sit liv at være lederhunden i flokken. Alle respekterede hende, fordi hun var så selvsikker og stolede på sig selv og fordi hun aldrig blev hidsig. Hun var en perfekt mor, fødte sine hvalpe uden man næsten lagde mærke til det og elskede at tage sig af dem. På gamle dage var hun bedstemor for alle andres kuld og lå gerne i hvalpekassen og holdt orden på andre tævers hvalpe 11-12 år gammel.  Heldigvis har alle hendes hvalpe også arvet hendes værdifulde egenskaber.  Vi har derfor valgt at gøre Tahma til en af stamhundene i kennel Lapinlumon, hun og hendes hvalpe er indbegrebet for os af, hvad en rigtig lapphund skal være temperamentsmæssigt og typemæssigt, og det er derfor hende og hendes afkom vi forsøger at bygge meget af vores opdræt på. Tahma døde stille og roligt næsten 13 år gammel efter et godt og langt liv.
English Many years ago in the beginning of our journey with the lapphunds I saw an almost 17 year old bitch, Peski Hippu. She was a grey wolfsable, had a fantastic head, more coat than I ever saw on anyone else and a type I at that time had never seen before on other lapphunds. She reminded me o a wild animal. I at once understood that this was how I wanted the Finnish lapphund to look. I found the same type in the Finnish bitch Shacal Nuhpir and booked a grandchild from her, Tahma. Tahma lived up to my desire and the wish I had about type and look. Tahma was my favourit dog when it came to temperament. She was very calm and easy, yet never afraid of anything. She didn´t fight with other dogs, but still she was capable of reamining the leader of the pack all of her life. Everybody respected her because of her self confidence and because she never lost her temper, they knew they could trust her. She was the perfect mother, gave birth to her puppies without you nearly noticing it and loved to take care of them. In her old days she was everybodys granny and often jumped to the whelping box to clean and make order for the other bitches litters even when she was 11-12 years old. Luckily her puppies inherited her valuable features. We have therefore chosen to make Tahma one of the foundation dogs in kennel Lapinlumon, she and her puppies are for us the quintessence of what a real lapinkoira should be in temperament as well as in type. Tahma died peacefully almost 13 years old after a long good life.