We are a Danish family of 4 who moved to a farm in Sweden 2011. When doing so we decided to "do dogs" full time and devote all our time for our kennel and breeding as well as our family.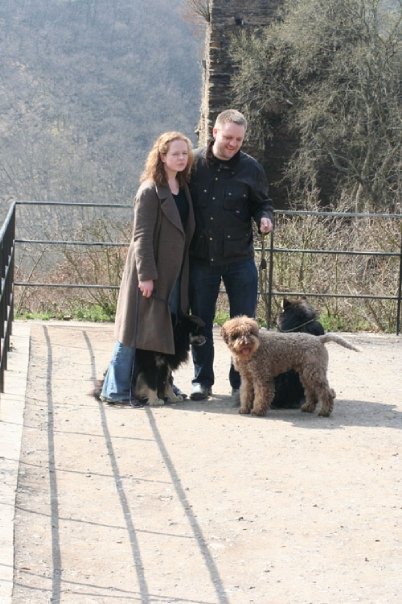 Sarah Kathrine Brandes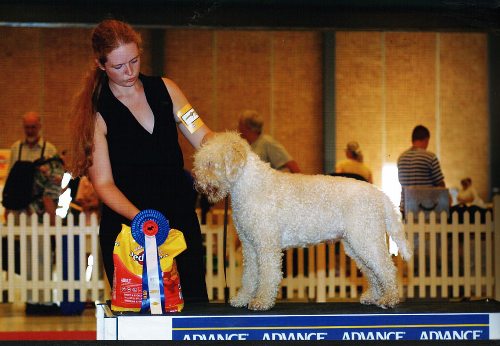 Is the reason there is a Kennel Lapinlumon. Got her first dog in 1991  11 years old when her mother bought the lapinkoira Sirpa. When Sirpas breeder wanted her to go to a show it was Sarah who handled her and after this she was hooked. Shows, the dogs, juniorhandling and later genetics and breeding became her big hobby. When she was 14 she bought her first own dog Fidelis Uuriel whom she fetched in Finland together with her mother who was all the time actively participating in the dogworld. Besides going to the shows Sarah trained Uuriel each week in obedience and he passed the Danish kennel clubs class 1 officially and trained in class 2 and 3. As the interest for the dogworld grew so did the interest in starting an own breeding program. Therefore a bitch was imported from Finland and in 1997 the kennelname Lapinlumon was bought.
Since then it only went one way. One dog has become many and the showresults both at home and abroad speak for themselves. Most of the first dogs have participated in some kind of training, several trained obedience on quite a high level. Sarah also did two and a half  years of training as a proffesionel dog groomer and she took care of several administrative jobs in the doglife; secretary and vicechairman in the board of the spitz breed club, breedrepresentative for the lapinporokoira as well as for the lapinkoira for several years and chairman of the club for hunting dogs with no other breedclubs in Denmark. Sarah passed the Danish kennel club breeders education twice, did the official Danish education to be allowed to work proffesionally with animals and made numerable travels to Finland and Italy to learn as much as possible about the breeds.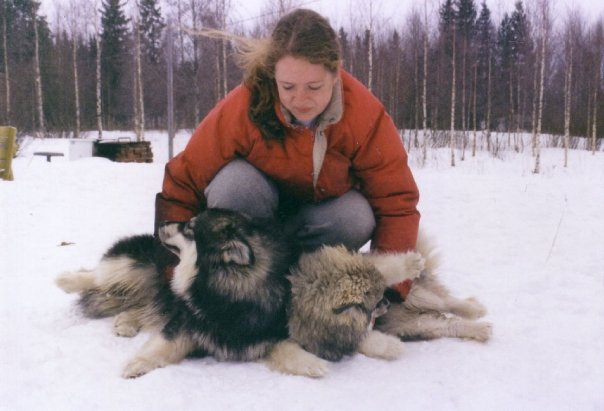 In 2003 the travel became more permanent when she moved to Finland, more specifically 600 km North of Helsinki to Oulu where she under the northern lights studied Nordic languages at the university there.This gave an unique possibility to learn more about the Finnish breeds in their country of origin and to work closely with the Finnish breeders. When she got pregnant with Esther she decided to move back to Denmark after a little more than 2 years in Finland and she came back to Denmark  in 2005. Here she started studies at the university of Southern Denmark and has a bachelor in litterature and did her master studies in culture. In 2008 she met Jesper and they got married in January 2009 and in 2010 she had her second child, Valdemar. After her university studies she decided dogs was too big a part of her life to just be a hobby so she decided to devote all her time to the work with the dogs.
Jesper Brandes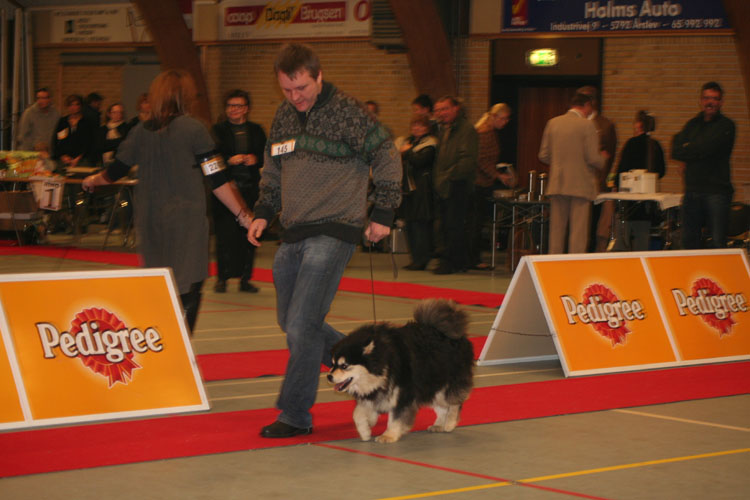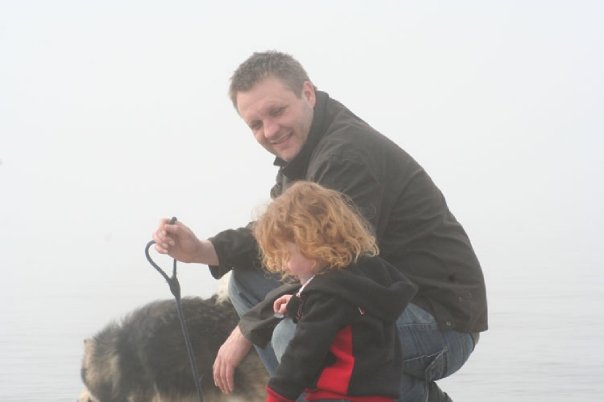 Jesper has had dogs most of his life, but the real dog life started when he met Sarah in 2008. He is a big part of kennel Lapinlumon and the daily life at the kennel. The breeding and genetics will never be his biggest hobby, but he loves the time with the dogs, to care for them and work with them on daily basis.  He has a bachelor in German languages from the university in Denmark, but now he works full time with the dogs. He even did courses at the university in business and economy which has helped us now as he is the one taking care of all the paperwork and acountwork for the kennel. He is an outdoor person who loves the walks, snow, mountains and the new environment in Sweden. And then he is the most caring dad in the world to both Esther and Valdemar and spends a lot of time with the two of them.
Esther Kathrine Brandes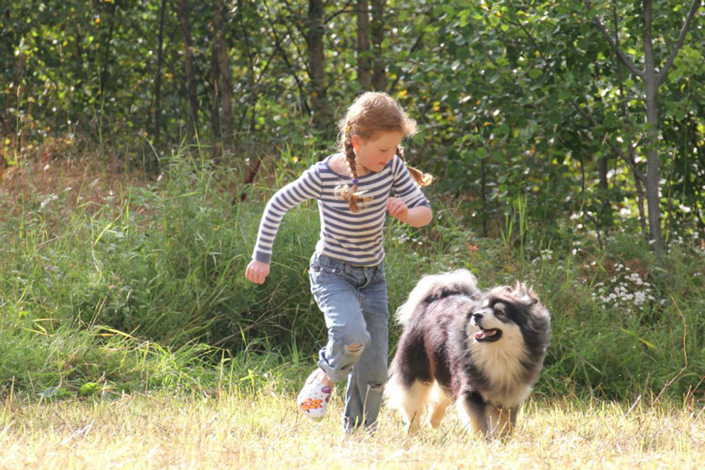 Esther was born the 31st of March 2005 and has naturally since she was born been the center of our world. She loves the dogs and is a great help when walking, feeding and playing with puppies. She makes sure that all puppies in this house are very used to children. She is also training intensively for child and dog competitions and already have some great wins from there. She has really proved to be of great value to us and to our puppy buyers as all puppies from Lapinlumon are very fond of kids.
She is a calm child who takes her time with dogs and young puppies and she can spend a long time just sitting with young puppies and getting them used to her. Outdoors she is an active girl who loves to be outside, iceskating, running, skiing and other activities are favourites for her and often the dogs join her when playing outside.
Valdemar Jon Brandes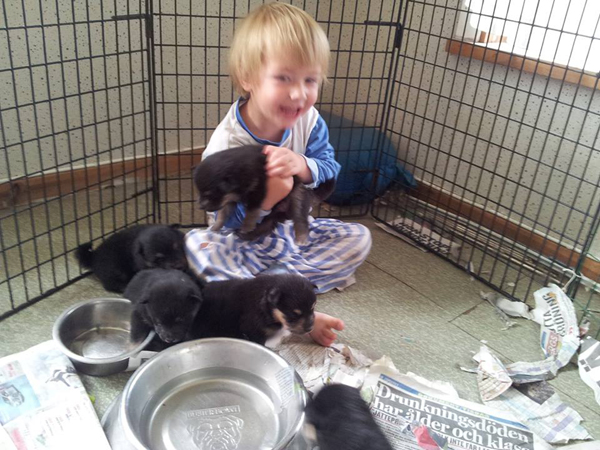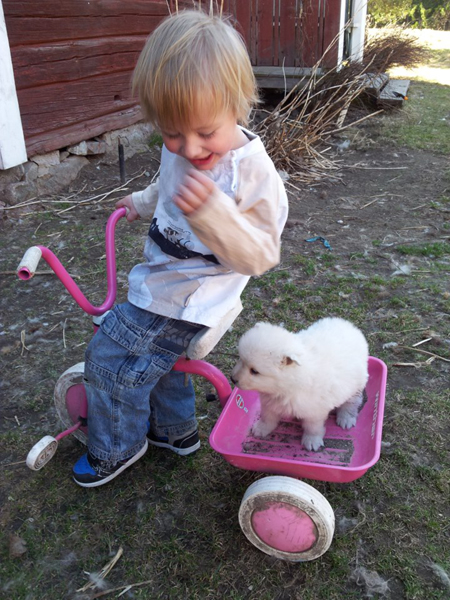 Valdemar was born the 31st of December 2010 and is a smart, funny, happy and VERY active little boy. He is here, there and everywhere and he can really challenge your supervision skills. He is a tough little guy, loves to be outside in all kind of weathers and is not scared of anything. He loves the dogs and puppies and makes sure that our puppies are really not scared of anything when they leave us.