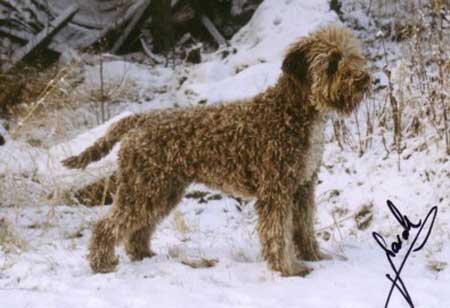 FINCH C.I.B.
Opdrætter/Breeder: Agneta Pamp, Sverige
Ejer/Owner: Kennel Lapinlumon & Kennel Foogel
Født/Born: 24.02.2003
Køn/sex: tæve/female
Hofter/Hips: CD
Anna er en af de smukkeste lagottoer vi har haft. Ikke kun smuk, men sød og sjov er hun også. Vi havde ventet længe på en hvalp af denne kombination fra Agneta Pamp, da vi troede på disse hvalpe kunne blive noget helt særligt. Desværre havde hun D hofter med pålejringer allerede i ung alder og vi ville derfor ikke bruge hende i avl.  Kennel Foogel ville gerne have hende, så hun flyttede til dem i et medejerskab da hun var lidt over et år. Her har hun gjort en forrygende karriere. Med mig havde hun allerede vundet certifikat i både Danmark og Finland og BIR, men på den finske lagotto special udstilling i 2004 med over 50 lagottoer tilmeldt blev Anna bedst i racen samt BIS! Senere på året på spanielklubbens udstilling under racespecialist Hans Lehtinen med 800 hunde tilmeldt vandt Anna igen bedst i racen og Best in show! Anna vandt også det første cacib der nogensinde er uddelt til lagotto i Finland.
Anna is one of the most beautiful lagottos we have owned. Not just pretty, but she is sweat and funny as well. We waited a long time to buy a puppy from this combination from Agneta Pamp  as we believed these puppies would be something very special. Unfortunately she had D hips with arthotis already at a young age and we therefore decided not to use her for breeding. Kennel Foogel would like to have her, so she mooved to them in a co ownership when she was little more than one year old. Here she has done a remarkable carriere. With me she had already won CAC both in Denmark and Finland in spite of her young age, but at the lagotto specialty in Finland 2004 with more than 50 lagottos entered she won Best of breed and Best in show! Later this year at the spaniel club specialty under breed specialist Hans Lehtinen and with 800 dogs entered Anna did it again and won best of breed and best in show! She also won the first CACIB ever given for lagottos in Finland. We are very proud of our little girl who is so famous already at such a young age.
Ch Toshikos Esemplare Migliore B

CH Lucky

CH Malck

Melina

Ch Tresi

Tim

Giuditta

Scheffelfältets Era Europea A

CH Fiocco di Casa Cleo

Ch Rex

Era

CH Dana delle Farnie

CH Berny delle Farnie

Rea