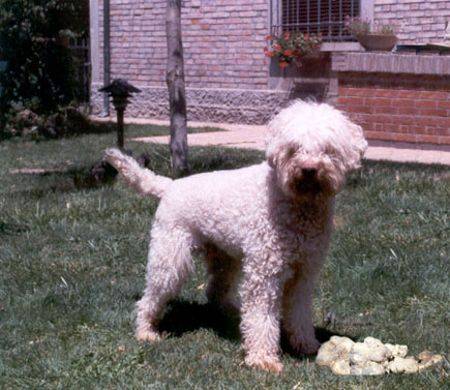 Breeder: Angelo Gasperoni, Italien
Owner: Kennel Lapinlumon
Born: 24.11.1994   Dead: 05.08.2005
Sex: han/male
Hips: A
Caio came to us from Italy in 2001. A small dog with an enormous personality. Caio was completely his own and something quite special. He was not afraid of anything or anybody and in spite of his high age he always behaved just like a small puppy. Caio had not had an easy life in Italy and he had a very big need for feeling secure. After he had been with us for a couple of months he loved us unquestionably and was ready to do anything for us. He was a very loving and social dog. Caio was very beautiful and won CACs both in Italy and Denmark. He did not enjoy the shows very much though so after a few times we let him stay at home. He was also a great truffle dog in Italy. Caio has many famous puppies both in Italy, Sweden, Denmark, Finland and other European countries. He put his mark on the lagotto breeding many places. Today his grandchildren and great grandchildren are showing the way. We were proud to be privileged to know him, but sad that we did not have him from he was a small puppy. We lost him much too soon when he had a cancer which was impossible to cure. The 5th of August 2005 we took the sad road to the vet and said goodbye. Luckily he lives on in his daughters and grandchildren we have here at home. Even if many years have passed he is still one of those dogs we remember, speak about and miss.
CH Pepe

CH Malck

Unknown

Unknown

Duna

Unknown

Unknown

Betty

Bill

Unknown

Unknown

Tali

Unknown

Unknown