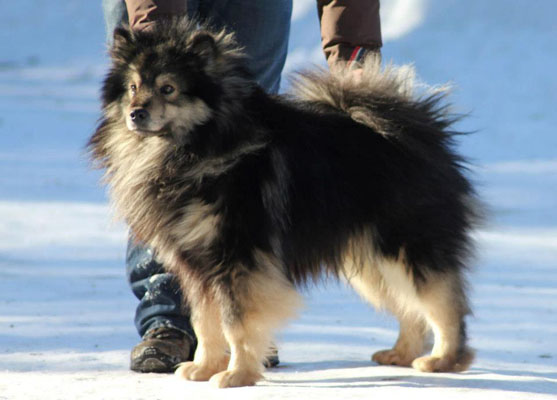 Opdrætter/Breeder: Kennel Lapinlumon
Ejer/Owner: Kennel Lapinlumon
Køn/sex: han/male
Født/Born: 02.12.2010
Optigen: normal/clear
Hofter/Hips: A
Øjenlyst fri/eyetested clear
Dansk Usko har en – synes vi – fantastisk spændende stamtavle som kombinerer fine gamle hunde som ikke er så normale at se på stamtavler nu for tiden. Vi beholdt ham derfor. Han er en sød og venlig lille dreng, ingen stor hanhund og bestemt heller ikke den, der gør mest væsen af sig. Men glad og rar mod alle.
English Usko has an – in our eyes – extremely interesting pedigree which combines nice old dogs which are not so usual to see in pedigrees today. Therefore we kept him at home. He is a cute and friendly little boy, no big male and deffinately not one to make a fuss about himself. But happy and kind to everybody.