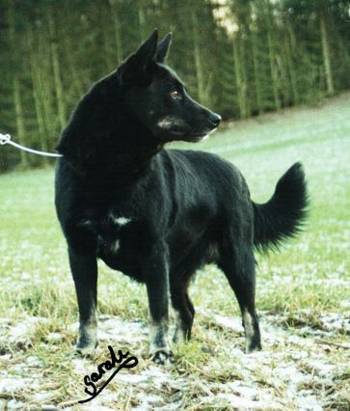 Opdrætter/Breeder: Päivi Uutuslien Viirumäki, Finland
Ejer/Owner: Ruth Kristensen
Født/Born: 05/08-1998
Køn/sex: tæve/female
Øjenlyst fri/eyetested clear
Sanna  lånte vi ind voksen fra Finland til et kuld hvalpe. En sød og venlig lille tæve som vi valgte pga hendes stamtavle. Hun kom hertil drægtig parret i Finland for at starte racen med flere forskellige linier i Danmark og fik i 2001 et fint kuld til os. Sanna blev udstillet en enkelt gang i Finland, hvor hun blev bedste tæve med certifikat. Hun boede med os et år og kom derefter ud at bo hos Ruth.
Sanna we borrowed from Finland for a litter as an adult. A sweat and friendly little bitch who we chose because of her pedigree. She came to us pregnant mated in Finland to start the breed in Denmark with different lines and had a nice litter for us in 2001. Sanna was shown one single time in Finland and won best bitch with CAC. She lived with us for a year and after that she moved to live with Ruth.